Upload your recipes from your kitchen to directly your customer's mobile phones using the digital menu QR code. Contactless menu can be one of the best, safest and easy to order experience for your customers.
In fact, 88% restaurant owners have switched their physical menu into the no-touch menu to ensure the contactless dining experience. If you are too looking for a change in the food ordering method, try integrating QR codes or PDF menu QR code in your menu. It will give accessibility to your customers to order directly by scanning the restaurant menu from their phones.
Unlike before, you don't have to wait for the payment because QR code menu also provides an option for a digital payment. So wondering how to convert your physical food menus into digital menus? It is very simple! You can use our Almenu QR generator software!
What is Digital Menu QR Code? Are they Different from PDF Menu QR Code
Yes, they are different! Digital menus are the digital version of the restaurant menu that shows the food items along with the beautiful images and prices. A customer can easily order the food by scanning the menu from their place.
Whereas, a PDF QR menu is only a digital-view of the food menu, unfortunately, a customer can't place the order online. But still it is one the interactive method and save your money on printing the paper menus again and again.
Read more difference here:
A QR code is a type of barcode that can be scanned using a Smartphone camera. When scanned, the QR code will redirect the user to a digital menu, PDF menu, or website.
Digital menu QR codes are different from PDF menu QR codes in that they allow restaurant customers to view the menu directly on their phone without having to download a PDF file. This can be especially useful for restaurants with frequently updated menus, as it eliminates the need to print and distribute new menus every time there is a change.
Additionally, digital menu QR codes can be customized to include additional information such as nutritional information or allergens.
PDF menu QR codes simply provide a link to a PDF version of the menu, which must be downloaded before it can be viewed.
While PDF menus are still popular, digital menus are becoming increasingly common as they offer a more convenient and user-friendly option.
In the era of digital dining to avoid the spread of pandemic, you should consider updating your physical menus into QR codes and digital PDF to QR Code.
Almenu Allows Payment Integration in Menu QR Code
Having a digital or interactive menu QR code but missing one of the most important thing- payment integration can spoil your customer's mood. Allow them to scan your food and order from their place by adding mobile payment integration into your existing digital menus.
This is a good way to maximize your revenue and you can monitor order in real-time.
What's more Almenu has for you?
• It removes the costing of hiring an order-taking waiter.
• It converts more and more customers on the table.
• You can analyze customer's behavior on the dashboard and can offer discounts to the existing customer.
In short, Almenu digital menus software is the best friend of every restaurant that needs help in digitizing their food menu, creating QR codes & managing restaurant's workflow.
How to Get QR Code for Your Restaurant
If you are running a restaurant anywhere, you will need a digital QR menu code to stay ahead of your competition. Using Almenu Cafe & Restaurant QR generator, you can ease online ordering and instant payment. Here are the steps:
1. Visit https://almenu.io/ to sign up for the account

To generate contactless menu, you need to sign up for an account. For that you need to enter email address, password, and Name. Verification will be sent to your registered email, please verify and login again.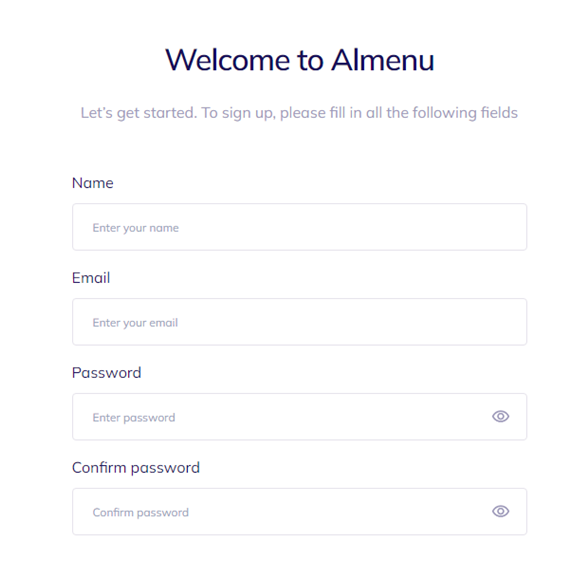 2. Next click on "create a menu" where you will get two options- "Upload a PDF menu" or "Create your own menu". Choose whatever option suits you.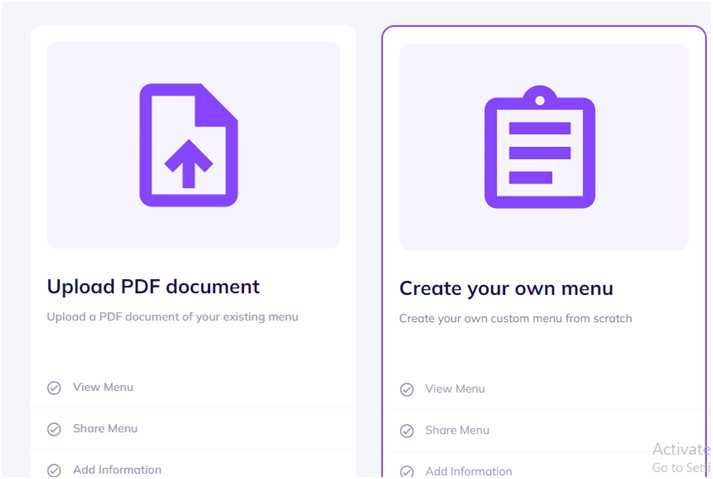 3. Fill the basic information about the menu such as Menu name, food name, and currency, and restaurant logo, banner image, about food summary, phone number, and social media links.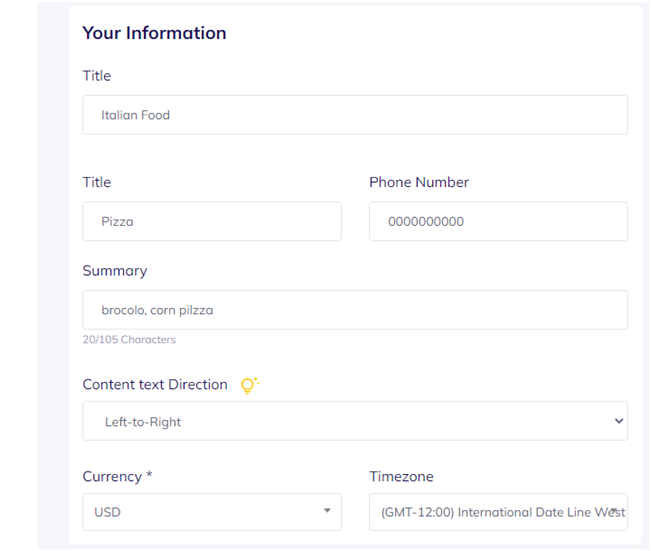 4. Next, add the food category, food items and sections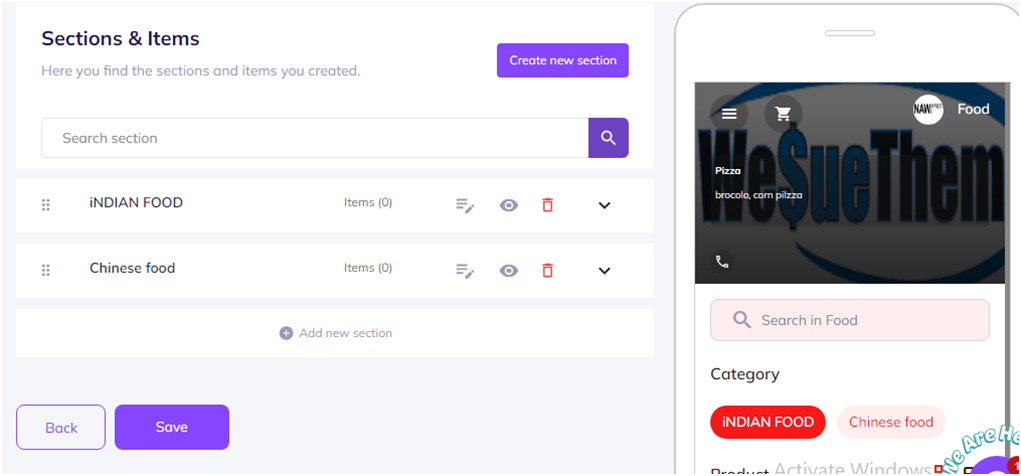 5. You can set the font style, color and design for your menu.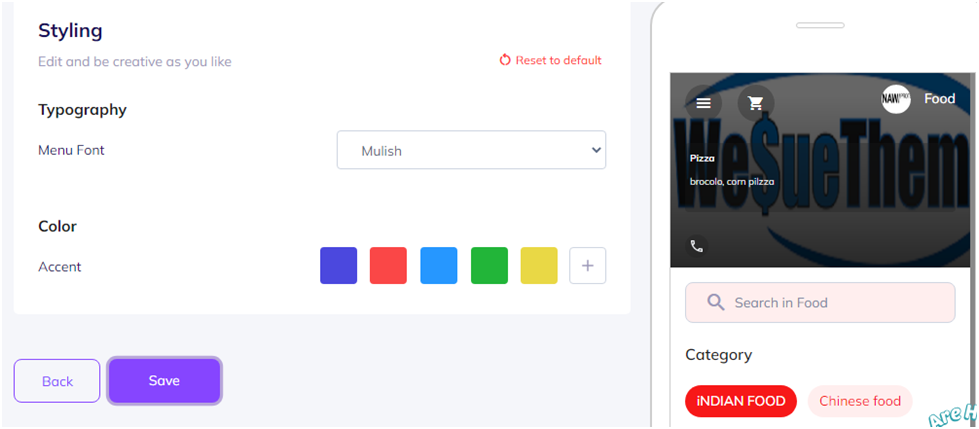 6. Here, you get the digital contactless QR menu for your restaurant.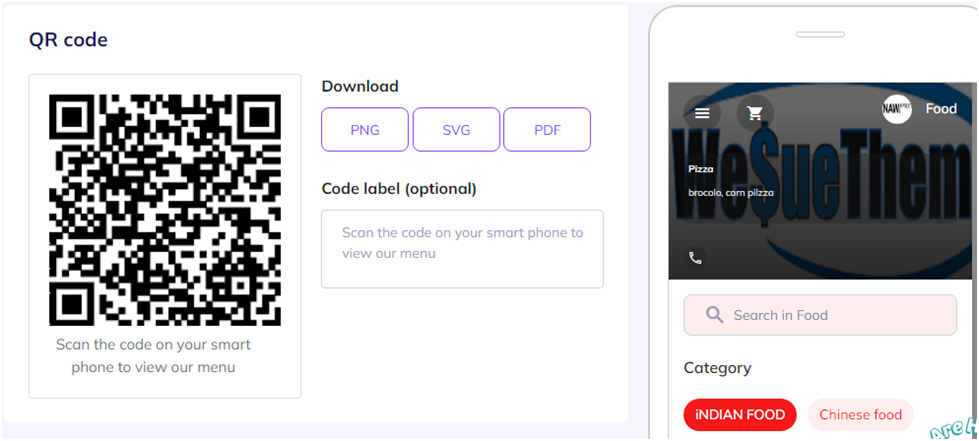 You can update, add or alter the food menu anytime with Almenu QR menu platform. Place this QR code on the table of the customers, so that they can order the food without waiting in the line.
Paper Menu or Contactless Menu: Which One is Better?
If you own a restaurant or bar, you know that having a great menu is important. After all, the menu is what your customers will use to decide what they want to order. But what kind of menu should you use?
There are two main types of menus – paper menus and contactless menus. So, which one is better? Let's take a look at the pros and cons of each type of menu to help you decide.
Paper Menus
Paper menus have been around for centuries, and for good reason – they're effective! Here are some of the pros of using a paper menu:
• People like the tactile experience of flipping through a paper menu. This can make them more likely to order something.
• Paper menus are easy to update. If you want to change your prices or add/remove items from your menu, you can do so quickly and easily with a paper menu. All you need is a pen!
• They're inexpensive. You don't need to spend a lot of money on paper or printing costs for a paper menu.
• You can get creative with them. With a paper menu, you can really let your personality shine through. You can use fun fonts, colors, and images to make your menu stand out from the crowd.
However, there are also some downsides to using a paper menu. For example:
• They can be difficult to read in low light conditions. If your restaurant has dim lighting, it may be hard for your customers to read your paper menu.
• They're not very environmentally friendly. If you're trying to be eco-friendly, a paper menu is not the best choice. Once your customers are done with it, it will just end up in the trash.
• They can be messy if food or drinks are spilled on them. This means you'll need to print new menus more often, which can be expensive over time.
Contactless Menus
In recent years, contactless menus have become more popular thanks to advances in technology. A contactless menu is essentially an electronic version of a paper menu that can be displayed on a tablet, Smartphone, or other device. Here are some of the pros of using a contactless menu:
• Attractive– They're easy to read in all lighting conditions since they emit their own light. This means your customers will be able to see your contactless menu no matter how dimly lit your restaurant is.
• Eco-friendly– They're more eco-friendly than paper menus since they can be reused over and over again without needing to be reprinted every time someone spills food or drinks on them! Plus, when you're finished with them, you can recycle the device they were displayed on instead of throwing it away like you would with a paper menu.
• Interactive– They're interactive! With a contactless menu, you can include images, videos, and even links to websites so your customers can learn more about the dishes you offer before they order them. You can also use QR codes that link directly to online ordering forms or payment portals so customers can order and pay without ever having to leave their seat!
Perks are not over, have a look;
• Easy to update and cost-effective.
• Guarantees safe dining
• Deployable on print or digital displays
• Convenient for the diners and your staff
• Tractable QR code scans
• Better table turnover
So, if you are up with plan of getting QR menu code for the restaurant, you can visit Almenu today!