The non-contact menu QR code or the digital menu QR code has penetrated the restaurant and bar industries all over the world. 
But what is all this hype for? And how to use the menu QR code? The emergence of "non-touch" menus by scanning the QR code has penetrated the global restaurant and bar industry.
After the COVID-19 pandemic, restaurant owners have turned to digital technology to ensure the safety of customers when they resume business.
Now that bars and restaurants have resumed operations during the closure period after COVID-19, major changes in daily operations have also changed.
Regulations on dinner and lodging have been formulated, and the company continues to observe the practice of maintaining social distancing between these companies to prevent virus infection.
One way to safely reopen the restaurant and bar industry is to modify its contactless menus to reduce the spread of the virus, which is spread through multiple manual menu exchanges that may be cross-contaminated.
In addition, you can even use QR codes this Black Friday season to ensure safe shopping during COVID-19 and increase sales at the same time!
What is a digital menu QR code?
The digital menu QR code is an online menu that allows diners to scan and access the digital menu that will be displayed on the Smartphone after scanning. To ensure the safety between guests and employees. 
The National Catering Association encourages restaurants to use contactless menus and ordering systems to communicate and conduct business to reduce close contact.
The QR code menu is generated using online QR code software. There are 3 QR codes you can create a code solution for the "non-contact" menu.
Why do you need a QR Code Menu?
Paper and plastic menus have long been the standard, but as companies adapted to CDC restaurant guidelines during the pandemic, they needed a new solution.
Compared with disposable menus or laminated reusable menus, QR code menus are a safer and cheaper option. It can be expensive and time-consuming to reprint a one-time menu when the dishes are changed or when the supply runs out.
Digital menus are standard in quick-service restaurants (QSR). But in fast-casual restaurants and casual restaurants. Your customers may have to stand and walk around to view the digital menu, which puts them at greater risk.
How to Create a QR Code Menu with Almenu
Using Almenu restaurant and bar QR code menu generator, you can easily create non-contact digital menus.
1.Signup into Almenu QR Code Menu Generator
Signup in Almenu to access the QR code menu generator. We offer two different packages one has free other has paid. When you go with a free package you will face advertisement ads.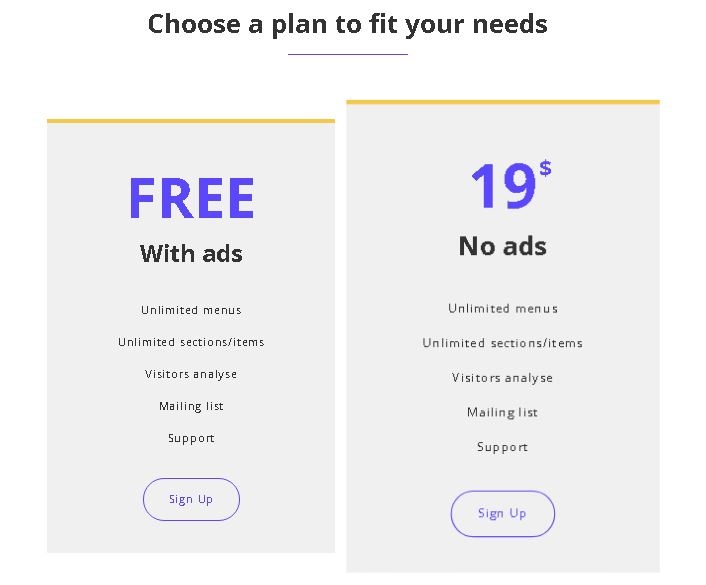 2. Customize Your Menu
Almenu allows you to customize your settings so that certain menus appear at different times of the day or week. Once you're logged into the Almenu platform, select the location you wish to manage, then click "Menu Manager" and "Add Menu." You'll then be prompted to enter your menu name (i.e. brunch menu, happy hour, dinner) menu type (i.e. food, drink), and customize the display hours.
3. Upload Your Menu
From here, you can upload a PDF menu or create a text-based menu within the platform, where you can add a name, price, description, etc. for each item. Click "Add Menu to Location" to save the changes.
4. Add Menu to a Menu Group
To generate a QR code, drag the menu from the available menu on the left to the menu group on the right to add the digital menu to the menu group. If you want to access all menus with one QR code scan, just drag all menus to the same menu group.
 Or, if you want different menus to appear in different locations within your organization, such as a bar area or outdoor seating, you can create a separate QR code by creating a new menu group. An unlimited number of QR codes can be generated through Almenu.
5. Download Your QR Code
After loading the menu, click "View QR Code" above the menu group in the Menu Manager, and then click "Download QR Code". You can print the QR code on plain paper. After printing the QR code or receiving the sign, the guest can scan it.
To access the menu, guests only need to scan the QR code with the camera of their mobile device without any registration, downloading, and advertising fees.
You can update the menu at any time without generating a new QR code or reprinting. You can also take advantage of other features of the contactless catering platform, including waiting lists and reservation management.
How to create a menu in a PDF or JPEG file
Realize your QR code menu
Download your QR code menu
Test your QR code menu
Customize your QR code menu
Generate a QR code menu
Upload your PDF or JPEG menu in the "Menu" category
Go to Almenu.io
Where to display your QR code
Although it is important that every table has your menu, it should also appear in several other key areas, including your restaurant. You can place them prominently on your windows, doorways, and mainframe.
The reason for including it here is simple: it allows guests to see your menu before they sit down. Since many states (such as California) restrict the number and duration of dining spaces as a COVID prevention measure, reducing the time that seated customers spend checking the menu before meals is a great advantage for your business.
How to display your QR code
You may have seen the menu QR code displayed as an insert on the desktop logo. They can also be added to the surface of the table as stickers or masking tape.
Each of these options has some disadvantages. Since guests often hold up posters on the table for scanning, your menu is no longer non-contact.
Similarly, table stickers often come into contact with guests. Other methods for sharing QR codes include using posters displayed around your restaurant.
You can frame the posters for a more refined look, or just stick them on the wall, but if you want a truly modern contactless restaurant experience, digital signage is the best choice for displaying QR codes. Printed posters, digital signage can display other compelling content, such as a 5-star Yelp rating or your Instagram feed.
The Future of Touch less Menus
QR codes have been around since 1994, but nowadays, it is getting easier for any business owner to use them. Under the pressure of COVID-19, restaurants are looking for innovative ways to protect their customers and their businesses.
Since the contactless menu reassures customers, your business will take their needs seriously, and we hope they can stay.