Want to start a sushi restaurant from zero? Or do you need a sample business plan template for a sushi restaurant? If so, I recommend you to read it. The restaurant business has proven to survive the harsh economic conditions worldwide simply because people always look for food before thinking about comfort.
Opening a sushi restaurant has its challenges, but you shouldn't discourage intimidating restaurant owners looking for a particularly lucrative business.
A good business strategy can increase your chances of starting a successful sushi restaurant.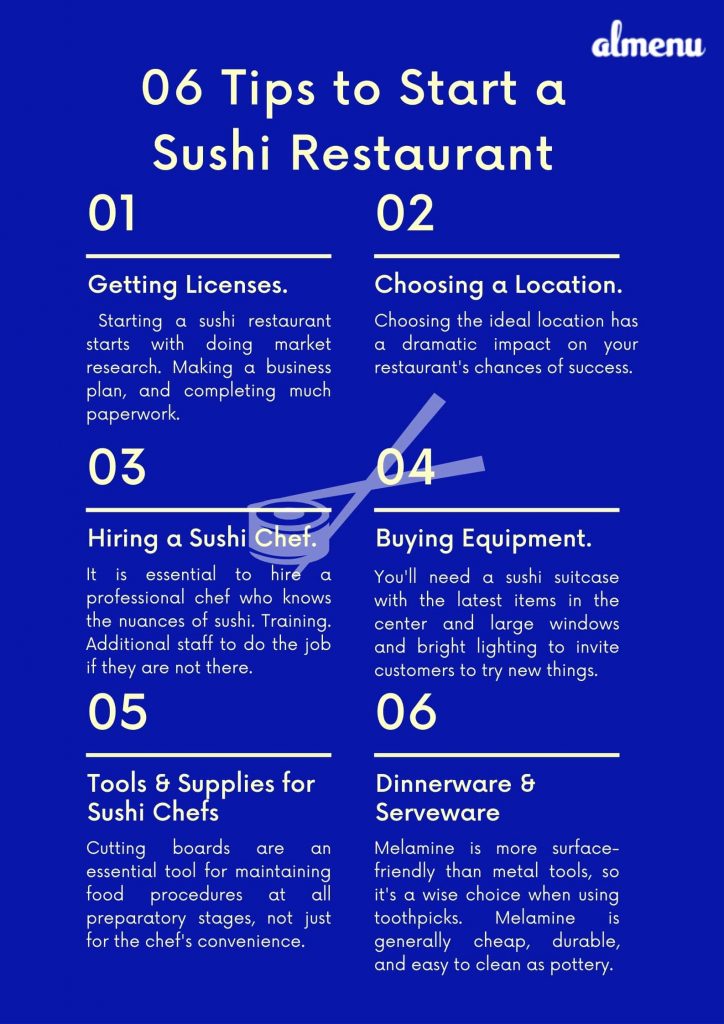 6 Tips to Start a Sushi restaurant:
Getting Licenses:
Like any commercial venture, starting a sushi restaurant starts with doing market research, making a business plan, and completing much paperwork.
Three other essential steps are:
Start a sushi restaurant with a general business license and turn your sushi restaurant into a legal entity. You can get it at the city hall. It is also a good starting point for learning how to open a sushi restaurant in your area and other local licenses you need to buy.
You must also complete the paperwork to apply for an employer number to the IRS as you may hire someone else at the sushi restaurant.
Suppose you plan to have more than five employees. You will need to take out Workers' Accident Compensation Insurance through government offices.
In addition to general business licenses, you are responsible for obtaining various food-specific permits and licenses. You need to register with the Ministry of Health and get a food processor license before opening a sushi restaurant.
If you want to serve beer, you need to obtain a permit from the local beer committee. But if you're going to serve liquor, you need to get separate approval from the state ABC committee. Requirements vary by city, state, and state law, so it's essential to make sure that:
Choosing a Location:
Choosing the ideal location has a dramatic impact on your restaurant's chances of success. The sushi market is no longer limited to the urban environment as it was a few years ago.
Now you can find fresh sushi cooked in suburban supermarkets and casual restaurant menus that do not specialize in Asian cuisine.
However, sushi is still thriving in the city's heart, especially in the heart of lively nightlife and a concentration of working professionals.
Suspending business within walking distance of office workers during lunch breaks can boost business during this period, and the thriving bar and club scene can drive customers out for dinner and late-night snacks.
At this point, you should have done some research on the markets and competition in your area. By analyzing this data, you can find the best place for a sushi restaurant.
Hiring a Sushi Chef:
It takes years to become a professional sushi chef. Traditionally, training chefs spend up to five years preparing rice and performing simple preparation tasks before they are considered ready to begin preparing fish.
It is essential to hire a professional chef who knows the nuances of sushi. Training. Additional staff to do the job if they are not there. It is necessary to take the time to consult with a qualified chef and introduce a talented chef.
Your expertise can also be a valuable source of information on how to open a sushi bar. The type of food we commonly call "sushi" is made up of a variety of styles, including:
Maki sushi, literally called "maki sushi," is a roll made by wrapping many ingredients in seaweed and rice and chopping it into small pieces.
Backroll, which means "back roll," is popular zipper-rolled sushi. It was so named because the rice is on the outside of the roll.
Nigiri sushi is a simple piece of raw fish on a bowl of rice and vegetables.
Sashimi is a fresh slice of high-quality raw fish.
The sushi menu, with different options for each style, gives customers a reason to come back. However, you should consider serving other popular Asian dishes such as noodles, stir-fries, and braziers to attract more viewers.
Tips for Serving Safe Sushi:
Sushi has a reputation for Healthy. It do many famous roles, so many hasty people swear at sushi in total. However, not all sushi contains raw fish. But the care of sushi comes with safety concerns that are caring for other foods.
Food distributors nominate the fish already treated to reduce food-related pathogens as "sushi grade," which can surprise to discover there is no legal definition.6 The FDA offers guidelines to handle the fish they will be mourning.
To ensure that parasites are destroying, freeze fish at -4 degrees Celsius for seven days or -31 degrees Celsius for 15 hours.
The most reliable way to fluent a source of Safe, fresh fish is to meet your provider.8 If it's an option in your area, you favor your fish from a supplier that only seafood instead of a food distributor of Catchall.
In addition to ensuring that you get the most excellent and safest food available, building a relationship with your service provider will help you take precautions to keep your seafood safe. It also tends to be notified of good deals and catching limited offers.
Buying Equipment:
If you plan to open a unique sushi bar, you'll need a sushi suitcase with the latest items in the center and large windows and bright lighting to invite customers to try new things.
Choosing a sushi box starts with determining the correct width. It's as easy as measuring the counter space that can assign to a unit.
Note that about 12 inches of total width consists of a cooling system, and the rest is used for refrigerated sushi and sashimi.
The sushi box should be clean at the end of the freezer to take in enough air to cool the contents effectively.
Cabinets typically require a 6-inch clearance on the compressor side. It means that you should have at least as much space between the cabinet and the surrounding equipment or walls.
Ensure the desired configuration meets this requirement and select the casing with the compressor on the right side.
Sushi restaurants should consider investing in the following equipment to complete the menu offering:
Fried foods such as tempura can be cooked quickly and efficiently with a commercially available fryer.
Traditional Asian dishes such as stir fry are, of course, most effectively done in a wok. Bry and Bry meat should be grilled on a commercial grill.
Rotisserie makes it easy to cook steaks and finish different dishes.
To cook a large amount of rice at a sushi restaurant, you need 10 to 100 cups of a commercially available rice cooker.
Tools & Supplies for Sushi Chefs:
Cutting boards are essential for maintaining food procedures at all preparatory stages, not just for the chef's convenience. Consider investing in color-coded boards and other food safety products and have specific tools for each type of product you are preparing.
It reduces the possibility of mutual contamination, especially between raw and cooked meat. Sushi makers rely on highly specialized cutlery to make the exact cuts needed to create world-class sushi. These are generally traditional Japanese knives such as:
Deva knife and sashimi knife for cooking fish.
Nakiri and Usuba knives for making vegetables and other ingredients.
Another essential tool that every sushi restaurant should have at hand? Maki sushi, also known as bamboo mats, allows sushi components to be assembled into compact, aesthetically pleasing sandwiches.
Dinnerware & Serveware for a start sushi restaurant:
The experience of eating sushi is crucial for the taste of the dish and its appearance, so it is worth thinking about the serving items used to deliver fresh creative dishes to guests. For dining rooms or sushi bars, consider the following options:
Sushi Plates and Bowls: Sushi plates made of wood or bamboo traditionally serve sandwiches at American sushi restaurants. Round sushi boxes are expensive, but they offer a more decorative alternative than plates.
Sushi Exhibits and Containers – Elevated shelves and sushi boat exhibits provide stunning exhibits.
Asian tableware: Traditional plates and trays, especially rectangular designs, often bring sushi rolls to the table.
It can also be coordinated with plates and bowls used in other menus such as soups and entrees. Asian cutlery is often made from melamine, traditionally offered in many patterns associated with Asian restaurants.
Melamine is more surface-friendly than metal tools, so it's a wise choice when using toothpicks. Melamine is generally cheap, durable, and easy to clean as pottery to be a lucrative investment.